The CAD Laboratory offers students the possibility to access industrial software-tools for simulation and design of integrated circuits. CMOS process design kits from 500 nm down to 22 nm gatelength as well as Bipolar and BiCMOS process design kits with transit frequencies of more than 500 GHz of famous semiconductor manufacturers (e.g. ams, Globalfoundries, IHP, Infineon and ST Microelectronics) complete the development environment.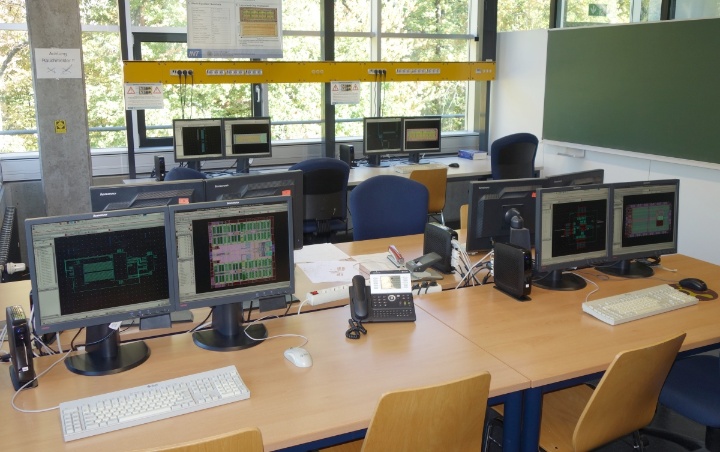 Use
During the Laboratory Course "Entwurf integrierter Schaltungen" (german) and "Physical Design of Integrated Mixed-Signal Circuits" first practical experience can be aquired in the design of integrated circuits. In Bachelor- and Master theses larger integrated circuits including layout can be developped and simulated.
Hardware
The workplaces consist of 12 Igel-Clients (graphical terminals/thin-clients without mechanical parts) with two flat screens. Thus schematic and layout can be viewed concurrently. Simulations are done on powerful servers, which run Linux. The operation of the servers is ensured by means of an uninterruptible power supply.
128 Intel Xeon CPU-Cores from 2.2 to 3.4 GHz
1.8 TB RAM
25 TB SSD capacity
10 Gbit/s Links between file- and computing servers
Uninterruptible power supply
Softwaretools for IC-, FPGA-Design and Simulation
Cadence - Virtuoso, Assura, QRC, PVS, Encounter
Mentor - Calibre, HDL-Designer, ModelSim
Synopsys - StarRC, Design Compiler
Keysight - ADS
Xilinx - ISE, Vivado
MathWorks - Matlab, Simulink